OUR DOMAIN-SPECIFIC OFFER IN
Robust, pressurised booths for the most challenging environments (ATEX zone)
● Modern, spacious and ergonomic.
● Pressure system controlled by a CPFG (combined pressurisation, fire, and gas) control panel, connected to LEL, fumes, heat and H2S detectors.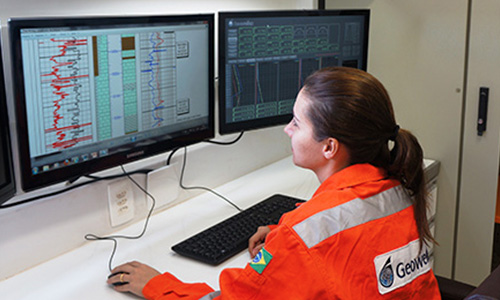 The top specialists in drilling supervision and geological monitoring
CVA draws on its sector experience, recruitment expertise and candidate pool to select the best "drilling supervision technician" and "geological monitoring technician" profiles for assignments.
The Geowellex teams provide support, in the field and remotely.
State-of-the-art data acquisition system and sensors, thanks to a continuous innovation approach
In our quest for excellence, we and Geowellex are joining forces with:
● National Instruments, designer of automated measuring systems for more than 40 years. Their CompactRIO equipment offers a high-performance solution for real-time industrial control and monitoring and is industry certified.
● Hohner, specialising in surface sensors since 1980. Their solutions are fully certified, compliant with all standards, and suitable for use in ATEX zones. We are working actively with their teams to develop new sensors (field tests), seeking innovative solutions.
Quick and efficient interpretation to improve the decision process
on each new operation

We provide efficient data acquisition and data storage, records easily available to the client through data extraction.
Our partner Geowellex is developing software platforms on 3 themes:
● Intelligent drilling: well drilling optimisation, safety in operations.
● Mud logging and advanced geological monitoring: lithologies interpreted using artificial intelligence, advanced computing of lag time, Nanotech delay tracers.
● Real-time evaluation of formations: advanced chromatography, etc.
A secure application is available to access geological and drilling data in real time.
A fast, reliable gas analysis system using the Mudlogger GC chromatograph, model 410
We use Dual FID technology, which enables simultaneous measurement of the total hydrocarbons ("totalgas", continuous measurement) and levels of individual hydrocarbons in a gas stream.
● Analysis time for Methane (C1) through to Butane (C4) gases: 25s.
● Analysis time for heavy-ISO gases and normal Pentane (iC5 and nC5): 45s.
● Advanced chromatography through to C8 (optional).
Nicolas Savey
After 6 years with Datalog Technology, during which he progressed from sample-taker to Senior Data Engineer, he spent 15 years as a Wellsite geologist in deep offshore exploration and development campaigns. He also took part in drilling the first horizontal wells in the Paris Basin, as an Operation Geologist.
CVA and GEOWELLEX
Experienced profiles and leading-edge equipment for your operations.
An offer developed with our partner GEOWELLEX which brings its mud logging experience and its hardware and software equipment. Like CVA, GEOWELLEX is recognised for its collaborative vision, its ability to innovate and the emphasis it places on product and service quality.
SERVICE QUALITY
Experienced specialist technicians, cutting-edge hardware and software solutions, and continual efforts to improve services.
INNOVATION
Using artificial intelligence to produce drilling parameters that match the actual well situation, and to predict the characteristics of the lithological formations crossed.
Project in mind?
Attentive to your projects, to deliver a personalised, pertinent response.