OUR DOMAIN-SPECIFIC OFFER IN
Key stakes for your legacy data: value extraction, backup and security-protection
Data transcription consists of:
● Reading and retrieving documents or data which may be held on either old or recent media, in a variety of formats (multimedia, geosciences, medical, legal, etc.)
● Possible remastering onto modern media/devices
● Writing and backup (making a copy): final archiving, duplicating data in order to back up in a different geographical location; use of new-generation media.
Our services
● Expertise in transcription
● Bit-for-bit copying, reformatting, reorganising data, demultiplexing, conversion, etc.
● Data recovery
● Security-protected physical storage in a controlled environment
● Assistance in managing physical media and optimising data classification.
● IT optimisation: We are developing specific tools to meet the requirements of production (automation) and/or analysis, in order to provide deliverables that are as complete as possible.
Remastering onto modern media: makes data durable, shortens provision time and reduces costs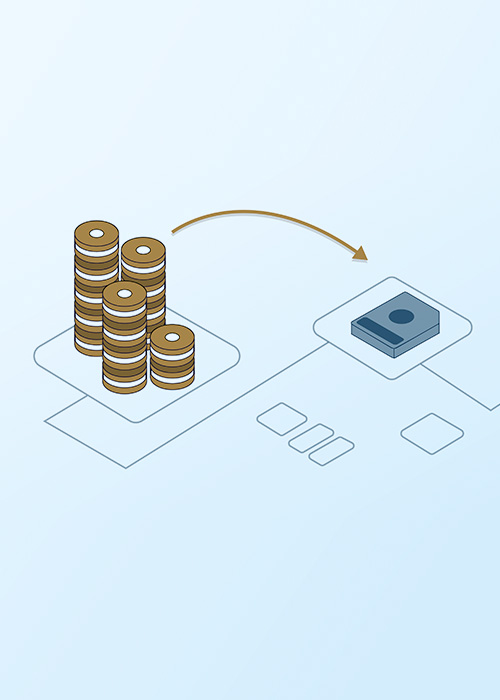 Transcription onto modern media results in:
● Lower costs of storage and transport, thanks to media that are physically small but have high capacity
● Shorter time frames for data provision
● An extended life for data held on newer media
● A secure long-term storage format.
Modern magnetic tape
● Service life: around twenty years
● Fewer data corruption incidents
● Costs less than disk storage
● Large storage capacity: from hundreds of GB to several TB.
A complete, high-performance transcription workshop for reading a wide variety of magnetic media
Other equipment
● Redundant monitoring servers for controlling magnetic tape readers.
● Storage arrays holding potentially hundreds of TB, and with a data partitioning option.
● Network switches with VLAN partitioning capacity.
CVA has a complete range of reading machines, enabling users to read a wide variety of old and recent media and magnetic tapes. We have high transcription capacity, with several tape libraries (3590, 3592, LTO, SDLT, etc.) and stand-alone readers for older or infrequently encountered formats.
Our experienced teams carry out the necessary maintenance to correct the hardware issues that naturally arise when using older reading machines (returning round-format tape onto its reel via appropriate, functional unwinders / cleaners…).
Formats supported by the transcription workshop
3592 JD (TS1150 – E08)
---
3592 JC (TS1140 – E07)
---
3592 JB (TS1130 – E06)
---
3592 JA (TS1120 – E05)
---
3592 J1A
---
3590H, 3590E, 3590B
---
LTO5, LTO4, LTO3, LTO2, LTO1
---
SDLT1, SDLT2, DLT-IV, DLT-IIIXT, DLT-III
---
DDS-1, DDS-2, DDS-3, DDS-4, DDS-5
---
3480, 3490, 3490E
---
Exabyte MP 8mm, Mammoth AME, Mammoth AME w/ SmartClean
---
9 pistes 800 – 1600 – 6250 BPI (9-track round tapes)
---
ZIP 100
---
JAZ 1GB
---
5¼ inch and 3½ inch floppy disk, LS120 disk
---
Optical media
---
USB media
Non-exhaustive list, please contact us for other formats.
Microfiche: a very long-lasting, unforgeable medium
Microfiches, whose service life spans several hundred years, offer a means of storing digitised or digital documents on a long-lasting, reliable medium (which cannot be modified in any way).
Microfiche storage is particularly suitable for documents that need to be kept for a long time without being altered, ensuring compliance with the original (e.g. notarial acts, legal documents, seismic data, etc.).
Carine Rouillon
Holder of a Geological Engineering diploma from France's UniLaSalle (Beauvais campus), Carine has 15 years of industrial experience in Geoscience projects and data management, notably as manager of an engineering department.
Stéphane Dennebouy
Trained in Physics and Chemistry, followed by a PhD in Geosciences from Mines ParisTech (the Paris School of Mines), Stéphane entered the industry as a Data Scientist. He has almost 20 years of experience as a Project Manager and Business Engineer.
Since 2012, Carine and Stéphane have run the technical assistance and project support activities in the fields of Geosciences, Biosciences, Big Data and IT.
SERVICE QUALITY
CVA expertise in transcription means that we can guarantee complete, high-quality recovery of your data.
OPTIMISED COSTS
By copying data onto physically small media, storage and transport costs are reduced.
INTERSECTING EXPERTISE
Multi-discipline teams – Data Management, IT and disciplines – ensure optimal data processing.

AGILITY
Dedicated teams, able to respond quickly to each request for data transcription or delivery.
Seismic data: transcription, provision for use, indexing and storage
"Knowledge of these old formats of seismic data is ebbing away. Having nearly 20 years of experience, we can process these data intelligently to provide files in more modern, user-friendly formats."
Michaël M., Project Leader
CVA assists its clients in:
● Transcription of magnetic storage media: reading, writing and copying on request, data reorganisation, remastering
● Making data available so that they can be used for imaging and interpretation
● Indexing seismic data: creation, enhancement and management of legacy databases; geographical representation (GIS)
● Physical and digital storage
● Continuous quality control.
As Geoscience experts, we are proficient in using all formats of seismic data:
● Recent: SEG-D (demultiplexed); SEG-Y, Nav, etc.
● Or old: SEG-A, SEG-B, SEG-C, SEG-D (multiplexed), RODE, PAMY, etc.
Audiovisual: recover as much usable data as possible from older media
Our transcription expertise enables us to extract the "raw" data from media over 40 years old (9-track or round-format magnetic tape, etc.). To recover as much usable data as possible, we:
● Run a preliminary check to verify the integrity of the media
● Propose workarounds or repairs
● Read the media, using several reading machines to optimise recovery
● Analyse the data, using information provided by the client
● Concatenate the data (i.e. run sequences end to end) if required
● Copy the data onto a modern device.
Project in mind?
Attentive to your projects, to deliver a personalised, pertinent response.