OUR DOMAIN-SPECIFIC OFFER IN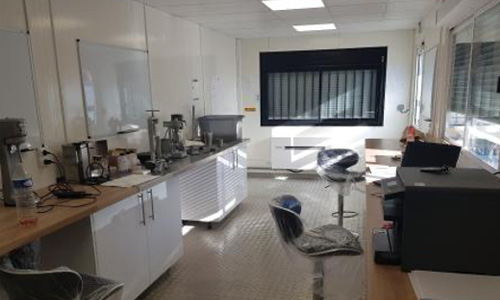 Human and material resources to define complete programmes and monitor them 24/7
● Complete programmes on fluids: Drilling, Workover, Completion
● 3 "Mudlab" booths fully kitted out with API equipment.
● Experienced mud engineers, both in France and abroad.
● A permanent stock of strategic products in our warehouses: LCM, weighting agent, barite, salt, carbonate.
We undertake to have 100% of relevant mud products in stock on start-up of a well, to ensure the safety of operations.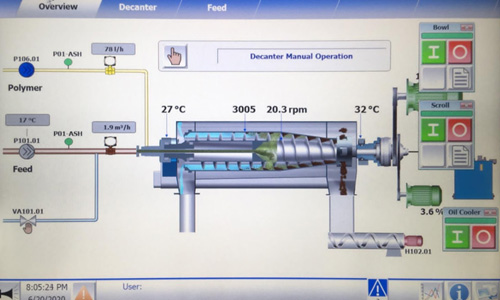 Control of solids: our own equipment delivering a reliable, efficient service
CVA has invested in equipment in order to be independent and flexible with regard to our clients.
● Centrifuges: to control density during drilling, and to dewater sludges.
– 14" / 350mm bowl – Up to 15 m3/h
– 21" / 550mm bowl – Up to 50 m3/h
● Cuttings bins, mud tanks, transfer pumps.
● Mobile warehouse with spare parts.
We select and provide access to experienced centrifuge operators, both in France and abroad.
Research and evaluation of recycling/recovery facilities that can receive solid and liquid waste
● Management of the solid and liquid waste produced by on-site drilling (cuttings and sludges).
● Waste tracking documents (BSD) to provide global traceability from the wellsite to the recovery facility.
Recovery centres are selected based on their daily processing capacity and on their analysis equipment and methods, to ensure compliance with best industry practices.
Being mindful of the environmental stakes, we are always searching for new, alternative ways of handling waste.
A central in-house laboratory supporting wellsite operations
Our in-house laboratory provides the means to qualify mud products before they are used, and mud formulations before they go to work sites.
● Mud aging under downhole conditions (T&P).
● Tribology test bench for Lubricity testing.
● R&D projects: water preservation, short supply chains, carbon footprint reduction.
A logistics centre ideally located to reach outlets from Africa to Scandinavia
Our logistics centre has:
● 750 m2 of covered storage with racks,
● 1000 m2 of outside storage.
Our freight forwarders are selected for their reliability, to guarantee a high-quality service.
Sébastien Paysan
Holder of an engineering qualification in Materials Science, Sébastien started his career at MPC with Serge Resnikow. Passionate about refining a product technically and then applying it in real operations, his current role finds him transferring his multi-technical experience to well services.
Geothermal energy
Underground storage of CO2, hydrogen and helium
Oil & gas
Our geothermal worksites : Grigny, Dammarie-les-Lys, Bobigny,
Champs-sur-Marne, Vélizy
Project in mind?
Attentive to your projects, to deliver a personalised, pertinent response.